WifiBlock for Lego Mindstorms NXT
Yet another Wi-Fi Add-on for the Lego® Mindstorms NXT development environment has become available. You can control your Lego® Mindstorms NXT creations from a computer, or from your smartphone. In control from a few meters away, or from across the other side of the world, is a reality with the HumaRobotics WifiBlock.

The WiFiBlock is a product that has been 100% developed by HumaRobotics, the Research and development department of Generation Robots. The WiFiBlock can be programmed with NXT-G, RobotC, NXT, Lejos,etc. The sensor can be added even an Arduino compatible board. WiFiBlock communication uses an I2C protocol bus making it compatible with many development boards and various microcontrollers.
The WiFiBlock connects to anyone of the four sensors ports of the NXT brick. The WiFiBlock exchanges commands and data from your robot and relays them over an IP network using its wireless connection. The WiFiBlock exchanges data with any device connected to your local network (computer, smartphone, and tablet) or with servers on Internet. The WiFiBlock sensor can be used for remote control, data logging, smart home automation, or even your own NXT based wireless weather station. The sensor opens up an exciting new world of applications for you to explore. The WiFiBlock sensor allows your NXtT robot to send messages over Twitter, warn you when it detects an obstacle, or any other sensors (touch sensor, Temperature, RFID,…) is triggered.
WifiBlock embedded Features

HTTP GET requests
HTTP POST requests
Bidirectional communication over TCP port
Bidirectional communication over UDP port
Dataflash data logging (16Mb)
Real time clock with synchronisation over Internet
WifiBlock Technical specifications

The technical specifications of the WiFiBlock for Lego Mindstorms NXT are the following:
RF module IEEE std. 802.11 compliant "Wifi Certified"
Unique MAC address
Bandwidth: 1Mbps
Integrated Antenna
16Mb Data flash memory
Range: up to 400m
Integrated AES security circuitry
OPEN, WEP, WPA-PSK, WPA2-PSA support
Autonomous power supply with 3AA batteries
Lego compatible fixation holes
Price and Availability

The WiFiBlock is available from Generation Robots at a R.R.P. of 95.00 EUR, 79.98 £, or approximately $125.00 US.
Checkout Laurens Valk's use of the of the Sensor: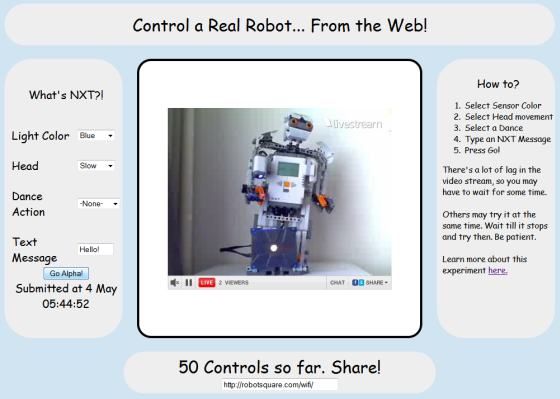 Previous Post
NXT2WIFI - Webserver Module for LEGO® MINDSTORMS® robots by Daniele Benedettelli Introduction: NXT2WIFI is a miniature web server module featuring a fully integrated 802.11 b/g/n Wi-Fi interface, giving your LEGO® ... Read more
Next Post
I've been working on building my contribution to the May 2012, NXTLog Competition. Part of my project needs a method to transport models of the large open top pallet type ... Read more